It's easy, especially in the guitar world, to get hung up on big names and iconic models. Unfortunately, many of these also come at iconic prices. That being said, trying to keep some money in your pocket doesn't have to come with sacrificing build quality, features, or character. Here are three under-the-radar finds for under $800.
1. Reverend Flatroc
Street Price: $750
Body: Korina
Neck: Maple (satin finish)
Frets: 22 medium jumbo, 12" radius
Pickups: Reverend Revtron
Tuners: Reverend locking pin
Nut: 1-11/16" graphite
Bridge: Tune-o-matic with stop tail
Perfect for: Anyone looking to turn heads onstage or in the studio; an all-around workhorse; that rockabilly and country sound
Boasting a retro, pawn shop vibe with high-quality design and construction, Reverend makes an offering aimed at people who want something a little different while still having a guitar that plays true night after night. Joe Naylor, the luthier behind Reverend, has managed to craft something uniquely Detroit that makes you just want to play. Reverends use their own proprietary pickup designs in all their models, so not only will you get a guitar that punches way above its weight class, but you'll also get something that you for sure will not find in any other guitar. Combine that with a korina body, locking tuners, and a "bass contour" knob all standard off the rack, and you may be left utterly confused by the price. If you have never picked up a Reverend guitar or bass, you need to check out what you've been missing.
2. Hagstrom Viking
Street Price: $700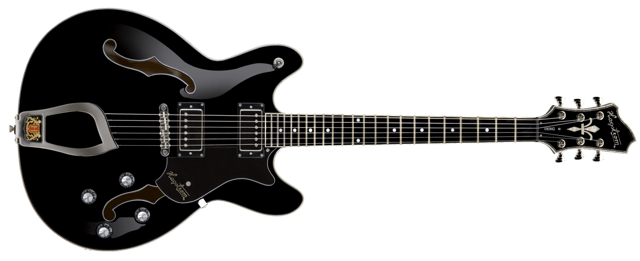 Body: Maple ply
Neck: Canadian hard maple
Frets: 22 medium jumbo, 15" radius
Pickups: Hagstrom HJ-50
Tuners: Hagstrom 18:1 die cast
Nut: 1-11/16" Black Tusq XL
Bridge: Tune-o-matic with Hagstrom Trapeze tail piece
Perfect for: Anyone looking to get into an archtop without breaking the bank; jazz, blues, rock, and everything in between
As someone who's a fan of hollow-body guitars, I normally find myself scrutinizing the more "value"-priced F-hole adorned axes. Many often feel cheaply finished or simply miss the mark when plugged in. It sometimes seems that "value" archtop is somewhat of an oxymoron. However, Hagstrom's offerings are proof that sometimes you can get more than you pay for. This former accordion manufacturer puts out an instrument that is as comfortable playing smooth lines as it is barking and screaming. Alongside appointments and details fit to match their more expensive cousins, the Vikings also boast Hagstrom's own proprietary pickups, tuners, and Resinator™ fretboard, yet again proving you don't need to break the bank to get something that's one of a kind. These modern builds share all the features that made Hagstrom a sought-after name and earned it the credit of being a manufacturer of the title for, "world's fastest playing guitar."
3. Yamaha Pacifica 611
Street Price: $600

Body: Alder with maple top
Neck: Maple
Frets: 22 medium jumbo, 13 3/4" radius
Pickups: Seymour Duncan SP-901N, Custom 5 HB
Tuners: Grover locking tuners
Nut: 1-11/16" Black Tusq XL
Bridge: Hardtail with Graph Tech String Saver saddles
Perfect for: The guitarist looking for that custom-build feel without the custom-build price point; studio rats and session players
A quality build that's sure to surprise, the Pacifica line from Yamaha is one I'm sure many would pass over on the rack. A company that unfortunately all too often gets associated with student-grade, nylon-string guitars offers up big value and big time flexibility at a price that will allow you to sleep at night. The 611, in particular, features an odd pickup load-out that offers insane tonal versatility in the right hands, placing a P-90 on the neck and a humbucker on the bridge. If you need to cover a lot of tonal ground and can't afford to have an entire rack of guitars on hand, look no further. Warren Huart, LA-based recording engineer (The Fray, Aerosmith, Marc Broussard) and owner of Produce Like a Pro swears by this guitar – not just as a value instrument, but as a studio workhorse, and has a number of videos on his YouTube channel that show it off as such. As with the other two offerings, the Pacifica 611 comes with appointments and styling suited to guitars that cost two to three times as much.
So, the next time you're looking to pick up a new instrument and want to get the most for your money, don't hesitate to check out these offerings. As with any quality instrument, the instrument itself should inspire its own music, and these are no exception. Guitars can be a very personal thing, so feel free to comment with your own thoughts and suggestions!